Noblesville Florist - Same Day Flower Delivery to Noblesville
Florist Noblesville Indiana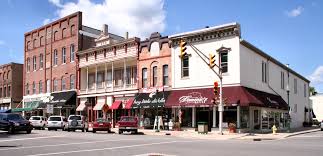 Whether you want to celebrate a birthday, commemorate a special anniversary, say "Get Well Soon" or express another special sentiment, trust George Thomas Florist with your next flower delivery to Noblesville, Indiana. Send a beautiful bouquet of fresh-cut flowers, pick out a long lasting plant, or send a delightful gift- we have something for everyone! As a local family-owned florist, we are proud to offer same-day delivery to Noblesville, Indiana and surrounding cities, always backed by our 100% satisfaction guarantee. Order online or give us a call to see why we are the best Noblesville, Indiana florist around.
About Noblesville, IN
Noblesville is a city in and the county seat of Hamilton County, Indiana, United States, located just north of Indianapolis. The population was 51,969 at the 2010 census making it the 14th largest city/town in the state, up from 19th in 2007
Noblesville's History
Noblesville's history dates back to 1818 when the land, which is now Hamilton County, was purchased by the government from Indians native to this area. William Conner, the only settler living in the area at the time, and his wife, a Delaware Indian, established the first trading post in central Indiana in 1802 and lived in the first log cabin in the area. William Conner and Josiah Polk laid out what is now downtown Noblesville in 1823, which was designated as the Hamilton County seat in 1824 and incorporated in 1851. Conner's 1823 home is now one of a village of historic buildings making up Conner Prairie Pioneer Settlement, a living history museum south of Noblesville in Fishers. Noblesville was named either for James Noble, one of the first two US senators from Indiana, or according to legend, for Lavina Noble of Indianapolis, to whom Josiah Polk was engaged.
Florist in Noblesville, Indiana
George Thomas Florist is your one-stop flower shop in Noblesville for birthday flowers, anniversary flowers and seasonal bouquets. We also offer same-day delivery of custom funeral flowers, and sympathy flowers to the Noblesville area funeral homes as well as offering delivery of Get Well flowers to local hospitals and assisted living facilities.
In addition to a complete selection of flowers, we also offer an incredible variety of flowering plants and lush greens as well as a variety of hand-made gift baskets to suit any taste! Be sure to check out our collection of gourmet food baskets, healthy fruit baskets, wind chimes, gift items, and so much more! Most selections are available for same-day delivery to Noblesville, Indiana and surrounding areas.
You can shop online 24 hours a day or call us directly and our knowledgeable and helpful staff will help you find the perfect floral arrangement, plant, or gift. We're confident you'll love our unique floral designs, and we provide 100% guarantee for your satisfaction.
Flower Delivery to all Noblesville Hospitals:
Carepoint Immediate Medical
205 Noble Creek Dr, Noblesville, IN 46060
(317) 776-8844
Riverview Hospital
395 Westfield Rd, Noblesville, IN
(317) 773-0760
Flowers Delivered to These Noblesville Churches
Grace Community Church
5504 E 146th St, Noblesville, IN 46062
(317) 848-2722
White River Christian Church
1685 N 10th St, Noblesville, IN 46060
(317) 773-2233
Noblesville First United Methodist Church
2051 Monument St, Noblesville, IN 46060
(317) 773-2500
Genesis Church
1702 Pleasant St, Noblesville, IN 46060
(317) 774-8627
Mount Pleasant Christian Church
381 N Bluff Rd, Noblesville, IN 46142 (317) 881-6727
Sympathy & Funeral Flowers Delivered to these Noblesville IN Funeral Homes
Randall & Roberts Funeral Home
1685 Westfield Rd Noblesville, IN 46062
(317) 773-2584
Flanner & Buchanan - Hamilton Park
4180 Westfield Rd Noblesville, IN 46062
(317) 896-9770
Local Delivery to the following Zip Codes
46060 46061 46062
Same Day & Express Flower Delivery
George Thomas Florist provides local same day and express flower delivery service to all funeral homes, churches, mortuaries and cemeteries in the Indianapolis and surrounding Metro area. If you need to send sympathy flowers outside of the Indianapolis area, we offer nationwide same day sympathy flower delivery service. We employ a team of professional delivery drivers. They do a great job and that allows us to guarantee on-time arrival for all local same day and express deliveries.
Our local delivery zone is one of the largest of any of the flower shop operating in the Indianapolis area. Customers who live and operate within our local delivery zone may choose between same day or express flower delivery service. Using express delivery, you can get flowers to the intended recipient, generally within four hours of the time you place the order.
Nationwide Same Day Flower Delivery
In addition to local delivery, George Thomas Florist also offers nationwide same day flower delivery. No matter where you need to send flowers, our team can handle the delivery for you. Select the flower arrangement you prefer from our website. Place the flowers in your check out cart. Select the date of your choice, and process the sale. We do the rest. No matter where you need the arrangement delivered, we can get your gift to your recipient, on the exact date you need them there. Nationwide delivery requires no additional fee. Every arrangement we design and deliver comes with our 100% customer satisfaction guarantee. If for any reason you don't absolutely love the arrangement we have created for you, just give us a call. We guarentee on-time arrival of your sympathy flower purchase. If you need to get your flowers to the mortuary, funeral home or church by a specific time of day, we highly encourage you to utilize our express delivery service.