New Palestine Florist - Same Day Flower Delivery to New Palestine
Florist New Palestine Indiana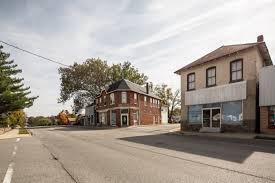 When you're looking for the highest quality flower delivery to New Palestine, Indiana, look no further than the experts at George Thomas Florist. We take pride in our work and customer service, which means you get the best value flower delivery to New Palestine, Indiana and surrounding communities back by our 100% satisfaction guarantee. Order flowers for Valentine's day, Mother's day, or other special holidays, birthdays, anniversaries and so much more. Browse our selection of farm fresh flowers, plants and gifts online or give us a call to create a custom design or for assistance. We can't wait to serve you for your next New Palestine, Indiana flower delivery!
About New Palestine, IN
New Palestine is a town in Sugar Creek Township, Hancock County, Indiana, along Sugar Creek. The population was 2,055 at the 2010 census.
New Palestine's History
New Palestine was laid out October 1, 1838, by Jonathan Evans. It first consisted of fifteen blocks and thirty six lots. A petition for the incorporation of New Palestine as a town was dated May 22, 1871, and presented to the board of county commissioners at the June session of 1871. At the time of the petition, New Palestine had a population of 279 people. The vote for incorporation was held on June 24, 1871. Many years after incorporation, the town had difficulty with its name. The post office was known as Sugar Creek, the railroad and express stations as Palestine and the name of the town itself was New Palestine. Through the efforts of E.F. Faut and Congressman Bynum, the name of the post office was changed from Sugar Creek to New Palestine on January 16, 1889, and the name of the railroad station and express office were also changed to New Palestine.
Florist in New Palestine, Indiana
George Thomas Florist is your one-stop flower shop in New Palestine for birthday flowers, anniversary flowers and seasonal bouquets. We also offer same-day flowers delivery of custom funeral flowers, and sympathy flowers to the New Palestine area funeral homes as well as offering delivery of Get Well flowers to local hospitals and assisted living facilities.
In addition to a complete selection of flowers, we also offer an incredible variety of flowering plants and lush greens as well as a variety of hand-made gift baskets to suit any taste! Be sure to check out our collection of gourmet food baskets, healthy fruit baskets, wind chimes, gift items, and so much more! Most selections are available for same-day delivery to New Palestine, Indiana and surrounding areas. You can shop online 24 hours a day or call us directly and our knowledgeable and helpful staff will help you find the perfect floral arrangement, plant, or gift. We're confident you'll love our unique floral designs, and we provide 100% guarantee for your satisfaction.
Flower Delivery to All New Palestine Hospitals:
LAM Health Project
4023 S. Creekside Dr., New Palestine, IN 46163
(317) 250-5066
Hancock Family Medicine
7375 US-52, New Palestine, IN 46163
(317) 861-4171
Flowers Delivered to All New Palestine Churches
New Palestine United Methodist Church
3565 Country Rd. 500 W, New Palestine, IN 46163
(317) 861-4390
Community Christian Church
3123 County Road 500 W, New Palestine, IN 46163
(317) 861-5407
Brookville Road Community Church
7480 W. US Hwy 52, New Palestine, IN 46163
(317) 861-3880
Sympathy & Funeral Flowers Delivered to All New Palestine Funeral Homes
Hendryx Mortuary
19 E. Main St., New Palestine, IN 46163
(317) 861-4349
Bell Mortuary
1444 US-52, Fountaintown, IN 46130
(317) 861-6153
Local Delivery to the following Zip Codes
46163
Same Day & Express Flower Delivery
George Thomas Florist provides local same day and express flower delivery service to all funeral homes, churches, mortuaries and cemeteries in the Indianapolis and surrounding Metro area. If you need to send sympathy flowers outside of the Indianapolis area, we offer nationwide same day sympathy flower delivery service. We employ a team of professional delivery drivers. They do a great job and that allows us to guarantee on-time arrival for all local same day and express deliveries.
Our local delivery zone is one of the largest of any of the flower shop operating in the Indianapolis area. Customers who live and operate within our local delivery zone may choose between same day or express flower delivery service. Using express delivery, you can get flowers to the intended recipient, generally within four hours of the time you place the order.
Nationwide Same Day Flower Delivery
In addition to local delivery, George Thomas Florist also offers nationwide same day flower delivery. No matter where you need to send flowers, our team can handle the delivery for you. Select the flower arrangement you prefer from our website. Place the flowers in your check out cart. Select the date of your choice, and process the sale. We do the rest. No matter where you need the arrangement delivered, we can get your gift to your recipient, on the exact date you need them there. Nationwide delivery requires no additional fee. Every arrangement we design and deliver comes with our 100% customer satisfaction guarantee. If for any reason you don't absolutely love the arrangement we have created for you, just give us a call. We guarentee on-time arrival of your sympathy flower purchase. If you need to get your flowers to the mortuary, funeral home or church by a specific time of day, we highly encourage you to utilize our express delivery service.