Carmel Florist - Same Day Flower Delivery to Carmel
Florist Carmel Indiana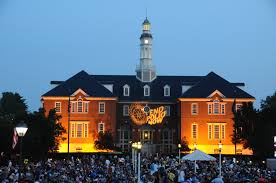 Make life's events more memorable with same-day flower delivery to Carmel, Indiana from George Thomas Florist. Our first-class service is unparrlleled and our fresh-cut flowers are the best in town. Order online to find out why we are the go to florist for flower delivery in Carmel, Indiana and surrounding cities. We are proud to be a local family-owned florist who services the people on our county, so we make sure each order is perfect. Not sure what to send, give us a call and our expert floral designers will help you create a customer bouquet of your recipients favorite flowers. Order online or call today to see why George Thomas Florist is the best Carmel, Indiana Florist.
About Carmel, IN
The City of Carmel is one of the fastest growing cities in Indiana. Located just north of Indianapolis in Hamilton County, Carmel is a dynamic edge city with award-winning schools, thriving businesses and family-oriented neighborhoods. The city is committed to preserving its vitality through controlled expansion and prudent planning.
Carmel's History
On April 13, 1837, John Felps (Phelps), Alexander Mills, Seth Green, and Daniel Warren, laid out the Town of Bethlehem. The plat contained a total of fourteen lots. The area, previously inhabited by Delaware (Miami) Indians, soon became inhabited by Quakers. Andrew Jackson was President of the United States at the time.
As a wilderness it was known for its fur trading. The first General Store was constructed in 1837. In 1845, a framed school house building was constructed near the Town's crossroads. In 1846, a Post Office was established. It was, at this time, the town residents were notified that the United States Post Office already had another town registered by the name of Bethlehem in Indiana. Consequently, in 1874, by a referendum vote of 33 in favor and 12 against, the town was officially incorporated and adopted the name "Carmel."
Florist in Carmel, Indiana
George Thomas Florist is your one-stop flower shop in Carmel for birthday flowers, anniversary flowers and seasonal bouquets. We also offer same-day delivery of custom funeral flowers, and sympathy flowers to the Carmel area funeral homes as well as offering delivery of Get Well flowers to local hospitals and assisted living facilities.
In addition to a complete selection of flowers, we also offer an incredible variety of flowering plants and lush greens as well as a variety of hand-made gift baskets to suit any taste! Be sure to check out our collection of gourmet food baskets, healthy fruit baskets, wind chimes, gift items, and so much more! Most selections are available for same-day delivery to Carmel, Indiana and surrounding areas.
You can shop online 24 hours a day or call us directly and our knowledgeable and helpful staff will help you find the perfect floral arrangement, plant, or gift. We're confident you'll love our unique floral designs, and we provide 100% guarantee for your satisfaction.
Flower Delivery to All Carmel Hospitals:
St. Vincent Carmel Hospital
13500 N Meridian St, Carmel, IN 46032
(317) 582-7000
Indiana University Health North Hospital
11700 N. Meridian Street, Carmel, IN 46032
(317) 688-2000
North Meridian Surgery Center
13225 North Meridian Street
(317) 574-5400
Flowers Delivered to These Carmel Churches
Lifepoint Church
12770 Hamilton Crossing Blvd, Carmel, IN 46032
(317) 571-0630
Central Christian Church
1242 W 136th St, Carmel, IN 46032
(317) 846-1230
Carmel United Methodist Church
621 S Range Line Rd, Carmel, IN 46032
(317) 844-7275
Northview Church
12900 Hazel Dell Pkwy, Carmel, IN 46033
(317) 846-2884
Hazel Dell Christian Church
14501 Hazel Dell Pkwy, Carmel, IN 46033
(317) 846-9828
Saint Elizabeth Seton Church
10655 Haverstick Rd E, Carmel, IN 46033
(317) 846-3850
Sympathy & Funeral Flowers Delivered to these Carmel IN Funeral Homes
Flanner & Buchanan Funeral Center - Carmel
325 E Carmel Dr, Carmel, IN 46032
(317) 848-2929
Bussell and Bell Family Funerals
1621 E Greyhound Pass, Carmel, IN 46032
(317) 587-2001
Leppert Mortuary
900 N Rangeline Rd, Carmel, IN 46032
(317) 846-2091
Local Delivery to the following Zip Codes
46032, 46033, 46082
Same Day & Express Flower Delivery
George Thomas Florist provides local same day and express flower delivery service to all funeral homes, churches, mortuaries and cemeteries in the Indianapolis and surrounding Metro area. If you need to send sympathy flowers outside of the Indianapolis area, we offer nationwide same day sympathy flower delivery service. We employ a team of professional delivery drivers. They do a great job and that allows us to guarantee on-time arrival for all local same day and express deliveries.
Our local delivery zone is one of the largest of any of the flower shop operating in the Indianapolis area. Customers who live and operate within our local delivery zone may choose between same day or express flower delivery service. Using express delivery, you can get flowers to the intended recipient, generally within four hours of the time you place the order.
Nationwide Same Day Flower Delivery
In addition to local delivery, George Thomas Florist also offers nationwide same day flower delivery. No matter where you need to send flowers, our team can handle the delivery for you. Select the flower arrangement you prefer from our website. Place the flowers in your check out cart. Select the date of your choice, and process the sale. We do the rest. No matter where you need the arrangement delivered, we can get your gift to your recipient, on the exact date you need them there. Nationwide delivery requires no additional fee. Every arrangement we design and deliver comes with our 100% customer satisfaction guarantee. If for any reason you don't absolutely love the arrangement we have created for you, just give us a call. We guarentee on-time arrival of your sympathy flower purchase. If you need to get your flowers to the mortuary, funeral home or church by a specific time of day, we highly encourage you to utilize our express delivery service.