Beech Grove Florist - Same Day Flower Delivery to Beech Grove, Indiana
Florist Beech Grove, Indiana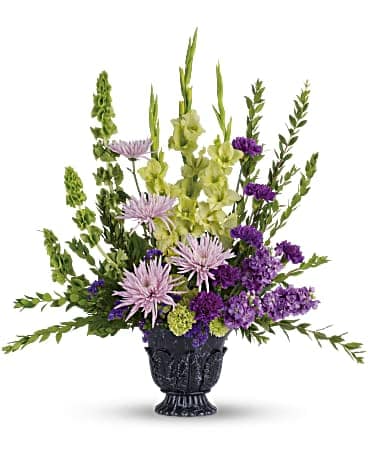 Beech Grove, Indiana is a delightful destination that we absolutely love delivering flowers to, and it's just a short drive away from our shop at George Thomas Florist. Our team has made ordering flowers online or over the phone for same-day delivery to Beech Grove and the neighboring areas a breeze. With an extensive selection of flowers for various occasions such as anniversaries, birthdays, funerals, weddings, and more, you can browse our website to find the perfect blooms to express your sentiments.
Our talented team of floral designers is always ready to help you make a lasting impression with a customized arrangement that will leave a lasting impression on your loved ones in Beech Grove and nearby cities.
Whether you choose to order online or call us directly, you can trust that we'll create a unique and beautiful floral design that will perfectly convey your message. So why wait? Order now and make someone's day with the gift of flowers from George Thomas Florist.
Flower Delivery to All Beech Grove Hospitals:
Franciscan Health Laboratory
2030 Churchman Ave. Beech Grove, IN 46107
(317) 528-8519
Franciscan Health
8111 S. Emerson Ave., Beech Grove, IN 46107
(317) 528-5000
Flowers Delivered to These Beech Grove Churches
First Christian Church
75 N. 10th Ave. Beech Grove, IN 46107
(317) 786-8522
Southwood Baptist Church
501 S. 4th Ave. Beech Grove, IN 46107
(317) 786-2719
Beech Grove United Methodist Church
102 S. 9th Ave., Beech Grove, IN 46107
(317) 784-7612
Holy Name Church
89 N, 17th Ave., Beech Grove, IN 46107
(317) 784-5454
Sympathy & Funeral Flowers Delivered to These Beech Grove IN Funeral Homes
Little & Sons Funeral Home
1301 Main St., Beech Grove, IN 46107
(317) 786-1476
Shriley Brothers Funeral Home
3333 Thompson Rd., Indianapolis, IN 46227
(317) 783-3315
Local Delivery to the following Zip Codes
46107