Beech Grove Florist - Same Day Flower Delivery to Beech Grove
Florist Beech Grove Indiana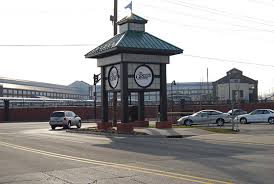 Just a short drive away, Beech Grove, Indiana is one of our favorite places to deliver flowers. At George Thomas Florist, we make it easy to order flowers online or over the phone for same-day flower delivery to Beech Grove and surrounding cities for any occasion. Browse our website to search for flowers for anniversaries, birthdays, funeral and sympathy occasions, weddings and so much more! Trust our talented team of floral designers when you want to send your sentiments in the form of flowers to Beech Grove, Indiana and other nearby cities. Order online or call us directly for custom designs today.
About Beech Grove, IN
Beech Grove, IN, is an excluded city in Marion County, Indiana, United States. As of the 2010 census, the city's population was 14,192. The City is located within the Indianapolis metropolitan area.
Town of Beech Grove
Beech Grove Indiana Wikipedia
Yelp Events in Beech Grove
Beech Groves's History
By the turn of the 20th century, the Beech Grove area was rural section of Marion County. Notable residents included poet and women's-right activist Sarah Tittle (Barrett) Bolton (1814-1893) and Indianapolis financier Francis McClintock Churchman (1833-1891)
Bolton's farm, "Beech Bank", and Churchman's cattle farm, "Beech Grove Farm", both reflected the abundance of beech trees in this area. This would eventually provide the reason for the city's name, although an early railroad stop in the area was know as "Ingallstown". The city's Sarah T. Bolton Park, situated on some of the former Beech Bank farmland, still contains several large beech trees along its southern boundary.
Florist in Beech Grove, Indiana
George Thomas Florist is your one-stop flower shop in Beech Grove for birthday flowers, anniversary flowers and seasonal bouquets. We also offer same-day flowers delivery of custom funeral flowers, and sympathy flowers to the Beech Grove area funeral homes as well as offering delivery of Get Well flowers to local hospitals and assisted living facilities.
In addition to a complete selection of flowers, we also offer an incredible variety of flowering plants and lush greens as well as a variety of hand-made gift baskets to suit any taste! Be sure to check out our collection of gourmet food baskets, healthy fruit baskets, wind chimes, gift items, and so much more! Most selections are available for same-day delivery to Beech Grove, Indiana and surrounding areas.
You can shop online 24 hours a day or call us directly and our knowledgeable and helpful staff will help you find the perfect floral arrangement, plant, or gift. We're confident you'll love our unique floral designs, and we provide 100% guarantee for your satisfaction.
Flower Delivery to All Beech Grove Hospitals:
Franciscan Health Laboratory
2030 Churchman Ave. Beech Grove, IN 46107
(317) 528-8519
Franciscan Health
8111 S. Emerson Ave., Beech Grove, IN 46107
(317) 528-5000
Flowers Delivered to These Beech Grove Churches
First Christian Church
75 N. 10th Ave. Beech Grove, IN 46107
(317) 786-8522
Southwood Baptist Church
501 S. 4th Ave. Beech Grove, IN 46107
(317) 786-2719
Beech Grove United Methodist Church
102 S. 9th Ave., Beech Grove, IN 46107
(317) 784-7612
Holy Name Church
89 N, 17th Ave., Beech Grove, IN 46107
(317) 784-5454
Sympathy & Funeral Flowers Delivered to These Beech Grove IN Funeral Homes
Little & Sons Funeral Home
1301 Main St., Beech Grove, IN 46107
(317) 786-1476
Shriley Brothers Funeral Home
3333 Thompson Rd., Indianapolis, IN 46227
(317) 783-3315
Local Delivery to the following Zip Codes
46107
Same Day & Express Flower Delivery
George Thomas Florist provides local same day and express flower delivery service to all funeral homes, churches, mortuaries and cemeteries in the Indianapolis and surrounding Metro area. If you need to send sympathy flowers outside of the Indianapolis area, we offer nationwide same day sympathy flower delivery service. We employ a team of professional delivery drivers. They do a great job and that allows us to guarantee on-time arrival for all local same day and express deliveries.
Our local delivery zone is one of the largest of any of the flower shop operating in the Indianapolis area. Customers who live and operate within our local delivery zone may choose between same day or express flower delivery service. Using express delivery, you can get flowers to the intended recipient, generally within four hours of the time you place the order.
Nationwide Same Day Flower Delivery
In addition to local delivery, George Thomas Florist also offers nationwide same day flower delivery. No matter where you need to send flowers, our team can handle the delivery for you. Select the flower arrangement you prefer from our website. Place the flowers in your check out cart. Select the date of your choice, and process the sale. We do the rest. No matter where you need the arrangement delivered, we can get your gift to your recipient, on the exact date you need them there. Nationwide delivery requires no additional fee. Every arrangement we design and deliver comes with our 100% customer satisfaction guarantee. If for any reason you don't absolutely love the arrangement we have created for you, just give us a call. We guarentee on-time arrival of your sympathy flower purchase. If you need to get your flowers to the mortuary, funeral home or church by a specific time of day, we highly encourage you to utilize our express delivery service.