Leppert Mortuary & Crematory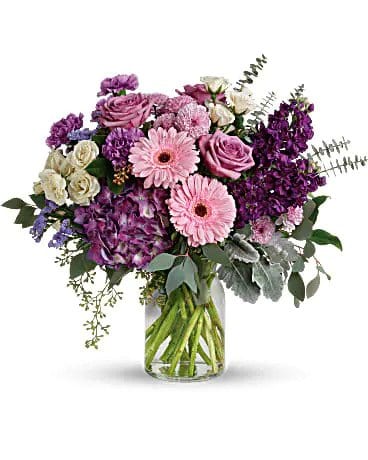 Leppert Mortuary & Crematory Sympathy & Funeral Flower Delivery
George Thomas Florist is committed to delivering sympathy flowers to Leppert Mortuary & Crematory in Indianapolis & Carmel, Indiana every day of the week. When you need to express your condolences for a loved one's passing, you can count on us to provide the freshest funeral flowers for the memorial service, funeral service, home or grave site. Our expert florists will assist you in selecting the perfect arrangements, from elaborate casket sprays to respectful wreaths. You can browse our selection online or call us at (317) 353-9161 to place your order.
Our team of delivery staff at George Thomas Flower Shop ensures that we make daily runs to Leppert Mortuary & Crematory. We offer same-day and express flower delivery service for local customers who need their sympathy arrangements or plants to arrive at a specific time. If you have a time-sensitive delivery request, we recommend that you opt for our express flower delivery service.
At George Thomas Flower Shop, we take pride in crafting beautiful standing sympathy sprays. Our traditional sprays are available with either a sturdy green wire easel or an upgraded white wood easel. We offer an impressive range of traditional standing sprays on our website, but if you have a particular design in mind, our talented team of designers can create a customized standing spray that perfectly reflects your loved one's personality and style.
Our standing sprays are designed with the utmost care and attention to detail, using only the freshest and most vibrant blooms available. We understand the importance of selecting the right floral arrangement to honor the memory of your loved one, and we are committed to working closely with you to ensure that every detail is just right. Browse our selection of standing sprays online, or contact us directly to discuss your unique needs and preferences.
At our flower shop, we take pride in creating stunning heart-shaped standing sprays that perfectly express your love and respect for your dearly departed. While we offer a nice selection of heart-shaped sprays on our website, we understand that you may have a specific design in mind. That's why we encourage you to reach out to our talented floral design team who can customize a heart-shaped spray to your exact specifications.
Our heart-shaped sprays come with the option of a sturdy green wire or upgraded white wood easel, and we offer a wide variety of floral options to suit any taste or preference. While roses, lilies, and carnations tend to be the most popular choices, we can incorporate any flower you desire to create a truly unique and personalized tribute. Our floral designers use only the freshest blooms to craft each heart-shaped standing spray with care and precision, ensuring that every detail is just right. Contact us today to discuss your custom heart-shaped spray and let us help you create a meaningful and heartfelt tribute.
Leppert Mortuary & Crematoy Locations we serve in Indianapolis & Carmel, IN
Indianapolis - 740 E. 86th St., Indianapolis, IN 46240
Carmel - 900 N. Rangeline Rd., Carmel, IN 46032